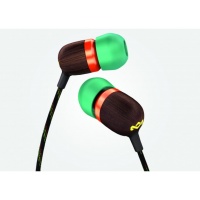 price:

Filed in: The House of Marley Headphones
Description: Small and simple. With the Smile Jamaica earphones, what you see is what you get. We've stripped the earphone down to its essence and built it back up using natural materials and recycled plastics. Then we stopped when the sound was just right. There are no frills. Just the music, which shines through crisply. And even though it's small, the bass vibrates.
The House of Marley Smile Jamaica Specs
General Info
Class:

Design:

Wireless:

Electrostatic:
Features
Cable length:

Connector:

Volume control:

Playback controls:

Active Noise Cancelation:

Foldable design:

Replaceable ear pads:

Surround sound:

Built-in display:
Body
Rugged:

Available color options:
Alternative variants
You can add different versions of a single gadget as alternative variants.
If you are interested in using our specs commercially, check out our Headphones specs database licensing page.
Popular The House of Marley Smile Jamaica Videos