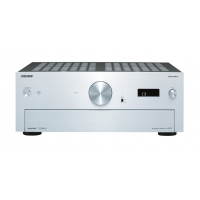 view more pictures in the gallery
price:

Filed in: Onkyo Amplifiers
Description: Onkyo has declared war on distortion. The success of its campaign against noise is evident the moment you switch on the A-9070 Integrated Stereo Amplifier. New DIDRC (Dynamic Intermodulation Distortion Reduction Circuitry) dampens super high frequency distortion. Closed ground-loop circuits, HICC (High Instantaneous-Current Capability), and vibration-damping construction combine to produce a startlingly pure sound across a wide... read more
Onkyo A-9070 Specs
General info
Amplifier usage:

Type:

Solid State (Transistor / Integrated Circuit)

Construction type:
Preamplifier
0.03 % measured at frequencies from 20Hz to 20kHz

THD:

Line in: 47 kohms +/-5%, Phono-MC: 100 ohms, Phono-MM: 47 kohms

Input impedance:

Line level: 150mV, Phono-MC: 0.18mV, Phono-MM: 2.25mV

Input sensitivity:

Output impedance:

Bass: +/- 10dB at 80Hz , Treble: +/- 10dB at 10kHz

Tone controls:

24bit / 192kHz DAC Support, High-current power

Features:

Windows Media Connect:

Built-in player:
Power amplifier
Amplified channels:

140W per channel into 4 ohms measured at frequencies from 20Hz to 20kHz and THD 0.05%

Power output:

75W per channel into 8 ohms measured at frequencies from 20Hz to 20kHz and THD 0.05%

Bridge mode:

Frequency response:

Input impedance:

Damping factor:

Features:
Connectivity
Unbalanced (RCA): 3, Optical SPDIF: 1, Coaxial SPDIF: 2, Phono input (RCA): Yes, Phono-MC, Phono-MM

Inputs:

Outputs:

Speaker connector type:

Remote control:
Body
17.13 in x 6.87 in x 16.93 in

Dimensions (WxHxD):

Weight:

Rugged:

Kensington anti-theft lock:

Available color options:
Power
Max: 290 W, Standby: less than 1.0 W

Consumption:

Power adapter voltage:
Warranty
Instruction manual, AC power cord, Remote controller, AAA (R03) batteries x 2

Accessories:
Alternative variants
You can add different versions of a single gadget as alternative variants.
If you are interested in using our specs commercially, check out our Amplifiers specs database licensing page.
Popular Onkyo A-9070 Videos