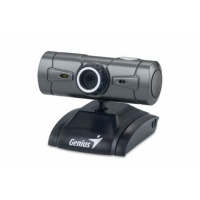 Description: Genius introduces its latest VGA webcam. FaceCam 300, which is great for Skype, MSN, Yahoo messenger and instant message communication. You can rotate it 360 degrees and it tilts 70 degrees up and down, and the universal clip fits easily to a LCD or notebook .The CrazyTalk Cam Suite software provides for real time chatting and recording video to upload to YouTube or Facebook.. FaceCam 300 is a very easy to use VGA webcam. For more... read more
We are currently working on upgrading our specs, but here are some short details.
Port
USB 1.1

OS Support
Windows 7/Vista/XP/Mac

Max. Still Image Resolution
8M

Lens Type
MF

Headset included
NO

Built-in-Mic
NO

UVC(No Driver Required)
NO

HD video(720)
NO

System Requirements:

For PC
-Pentium 4 2.4 GHz or AMD equivalent
-Windows 7/Vista/XP SP2
-DirectX 9.0 above
For Mac
-2.33 GHz Intel Core 2 Duo compatible
-1.07 GHz Power PC G4
-Mac OS 10.4.9 above
1GB RAM
1G HDD space
DVD-ROM for software installation
Available USB port

Package Contents:

FaceCam 300 webcam
CD-ROM includes:
-Driver
-CrazyTalk Cam Suite PRO
-Genius button manager
-Multi-language user's manual
Multi-language quick guide
If you are interested in using our specs commercially, check out our Webcams specs database licensing page.
Popular Genius FaceCam 300 Videos