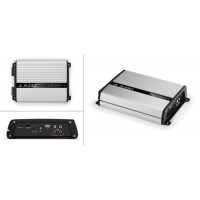 price:

Filed in: JL Audio Amplifiers
Description: When you see a moderately priced amplifier loaded with chrome and lights, you know that the money to pay for the bling came from somewhere, and that 'somewhere' is under the hood.
By contrast, when you inspect a JL Audio JX amplifier, you will see that nothing is spent on gimmicks, blue lights or chrome. Instead, we apply our no-nonsense, pure performance philosophy to specify oversized output transistors and rugged MOSFET power... read more
JL Audio JX250/1 Specs
General info
Amplifier usage:

Type:
Preamplifier
Frequency response:

Signal to noise ratio:

Tone controls:

Variable from 50Hz to 200Hz measured at 12 dB / Octave

Low pass filter:
Power amplifier
Amplified channels:

175W per channel into 4 ohms

Power output:

250W per channel into 2 ohms

Amplifier class:

Frequency response:

Signal to noise ratio:

Input sensitivity:

Damping factor:
Alternative variants
You can add different versions of a single gadget as alternative variants.
If you are interested in using our specs commercially, check out our Amplifiers specs database licensing page.
Popular JL Audio JX250/1 Videos