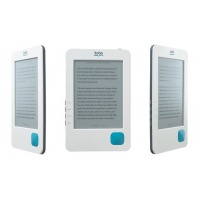 Description: Designed for book lovers, the Kobo eReader reads like print on paper. E Ink technology and adjustable font sizes make reading easy on everyone's eyes. Read right out of the box. The Kobo eReader comes pre-loaded with 100 Free eBooks. Choosing from a selection of all-time classics, you will find an ebook for you!
kobo Wireless eReader Specs
Software
Supported formats:
Hardware features
Built-in memory:

Memory card support:
Body
4.72 in x 7.24 in x 0.39 in

Dimensions (WxHxD):

Weight:

Available color options:
Power
8000 electronic page turns

Battery life:
Warranty
Accessories:
US Availability
Market status:

MSRP price :
Alternative variants
You can add different versions of a single gadget as alternative variants.
If you are interested in using our specs commercially, check out our Ebook Readers specs database licensing page.
Popular kobo Wireless eReader Videos