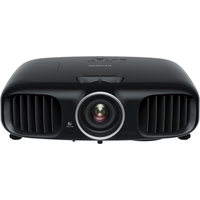 view more pictures in the gallery
Epson EH-TW6100 Specs
General info
Projector class:

Projector technology:

Native resolution:

Aspect ratio at native resolution:

Yes (Active shutter glasses)

3D:

Screen size:

Minimum:

Maximum:

White light output:

Color light output:

Dynamic contrast:

Lamp:

Lamp life:

Power:

Multiple lamps:

HDMI (Number of HDMI connectors: 2, HDMI version: 1.4), D-sub (VGA) (Number of VGA connectors: 1), Component, Composite, RS-232, USB

Connectors:

Maximum noise:
Lens
Focal length:

Throw ratio:

Interchangeable lens:

Lens shift:

Keystone correction:

Horizontal: +/-30 degrees; Vertical: +/-30 degrees

Range:
Features
Built-in TV tuner:

Multimedia speakers:

Speakers total power:

USB host:

Memory card reader:

Wi-Fi support:

Picture in/by Picture:

Multimedia player:
Body
16.54 in x 5.39 in x 14.37 in

Dimensions (WxHxD):

Weight:

Rugged:

Available color options:
Power
Typical: 358 W, Standby: less than 0 W

Consumption:
Warranty
3D Glasses Charger, HDMI Cable Clamp, Main unit, Power cable, RF 3D GLasses x 1, Remote control with background light incl. batteries, User's Manual Set

Accessories:
Alternative variants
You can add different versions of a single gadget as alternative variants.
If you are interested in using our specs commercially, check out our Projectors specs database licensing page.
Popular Epson EH-TW6100 Videos