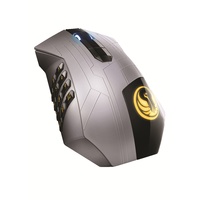 view more pictures in the gallery
Description: Tensions between the Sith Empire and Galactic Republic have erupted into an explosive battle of epic proportions. War is coming and whichever side you choose, only those armed with the Star Wars: The Old Republic Gaming Mouse by Razer. will emerge victorious. Cut down enemies in swathes, and execute battle plans faster when the mouse equips you with an astonishing 17 buttons to put more abilities at your fingertips.
Razer Star Wars The Old Republic Gaming Mouse Specs
General info
Class:

Mouse type:

Suitable for:

Wireless:

Can be used while charging:

Number of buttons:

Number of scroll wheels:
Features
Resolution:

Adjustable DPI:

USB polling / Response time:
Body
Dimensions (WxHxD):

Weight:

Weight tuning:

Rugged:

Available color options:
Power
Rechargeable (proprietary)

Battery:

Battery life:
US Availability
Market status:

MSRP price :
Alternative variants
You can add different versions of a single gadget as alternative variants.
If you are interested in using our specs commercially, check out our Mouse Devices specs database licensing page.
Popular Razer Star Wars The Old Republic Gaming Mouse Videos