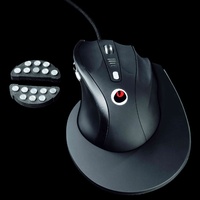 view more pictures in the gallery
price:

Filed in: RAPTOR-GAMING Mouse Devices
Description: The RAPTOR-GAMING M4 is the new flagship of the RAPTOR-GAMING Pro-Gaming-Mice series. It offers best and most in class options of individualisation. The resolution of the laser mouse is adjustable by hardware in steps of 400 dpi, 800 dpi, 1600 dpi, 3200 dpi, and 5000 dpi. Also the USB transfer speed can be swichted between 500 Hz and 1000 Hz. The weight-change system allows the user through the RAPTOR-STEEL-WEIGHTS to define the... read more
RAPTOR-GAMING M4 Specs
General info
Class:

Mouse type:

Suitable for:

Wireless:

Connector:

Number of buttons:

Number of scroll wheels:
Features
Resolution:

Adjustable DPI:

USB polling / Response time:

Other features:
Body
Weight tuning:

Rugged:

Available color options:
Warranty
RAPTOR-MOUSEBAG XL, RAPTOR-WEIGHTBAG, 16 additional weights (each ca. 2 gr.), RAPTOR-GAMING-WRIST-REST, Quick installation guide (multi lingual), 2 additional sets of mouse sliders, Application software CD, WEEE information paper

Accessories:
Alternative variants
You can add different versions of a single gadget as alternative variants.
If you are interested in using our specs commercially, check out our Mouse Devices specs database licensing page.
Popular RAPTOR-GAMING M4 Videos