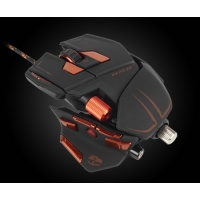 price:

Filed in: MadCatz Mouse Devices
Description: Level up your gaming hardware with the Cyborg M.M.O. 7 Gaming Mouse. Cyborg took all of the standout features and technology from the world's most adjustable gaming mouse - - the FPS-revolutionizing Cyborg R.A.T. - - and then enhanced control and ergonomics to create the ultimate weapon for MMO gamers. Whether you play WoW, EVE, The Lord of the Rings Online, Star Wars: The Old Republic, Guild Wars, or RIFT, the Cyborg M.M.O. 7... read more
MadCatz Cyborg M.M.O.7 Specs
General info
Class:

Suitable for:

Wireless:

Connector:

Number of buttons:

Number of scroll wheels:
Features
Resolution:

Adjustable DPI:

Speed:

Maximum acceleration:

USB polling / Response time:
Body
Weight tuning:

Rugged:

Available color options:
Warranty
5x 6-Gram Weights with Storage Canister, 2x Additional Pinkie Rests, 2x Additional Palm Rests, Storage Box

Accessories:
Alternative variants
You can add different versions of a single gadget as alternative variants.
If you are interested in using our specs commercially, check out our Mouse Devices specs database licensing page.
Popular MadCatz Cyborg M.M.O.7 Videos