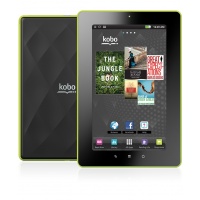 view more pictures in the gallery
price:

Filed in: kobo Ebook Readers
Description: World's Largest Bookstore in Your Pocket
Over 2.2 million books including today's newest releases, bestsellers and hidden gems plus more than 1 million FREE titles
Stunning color books for all ages from cookbooks and graphic novels to interactive Read Along children's books!
Thousands of popular magazines from Zinio® and newspapers from around the world from PressReader™
Includes gift of 3 glossy color books, 12 magazines and... read more
kobo Vox Specs
Display
Resolution:

Physical size:

Touch screen:

Second display:
Software
Operating system:

Integrated dictionary, Web browser, Music player

Features:
Hardware features
Yes (8.00 GB, 5000 books)

Built-in memory:
Body
Weight:

Rugged:

Available color options:
Power
7 hours of continuous usage

Battery life:
Warranty
Welcome Guide, USB cable and Power adaptor

Accessories:
US Availability
Market status:

MSRP price :
Alternative variants
You can add different versions of a single gadget as alternative variants.
If you are interested in using our specs commercially, check out our Ebook Readers specs database licensing page.