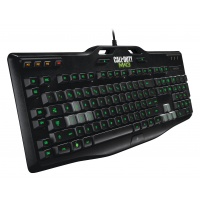 view more pictures in the gallery
Description: Play into the night
With long-life, night-vision green LED backlighting, you'll locate the right keys—even in the dark.
Game your way
You can configure up to 18 single keypresses or complex macros per game—and even record new macros on the fly.*
G-Series. Learn more about the gear that gets you there.
Go all in
Use multiple keys simultaneously to perform complex actions without interference or ghosting.
Logitech G105 Specs
Features
Backlight:

Display:

Multimedia keys, Programmable keys

Special keys:

Other features:
Body
Design features:

Rugged:

Available color options:
Warranty
Warranty period:
US Availability
Market status:

MSRP price :
Alternative variants
You can add different versions of a single gadget as alternative variants.
If you are interested in using our specs commercially, check out our Keyboards specs database licensing page.
Popular Logitech G105 Videos