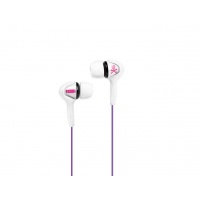 view more pictures in the gallery
price:

Filed in: Skullcandy Headphones
Description: Smokin' Buds are not the musical journey itself. They're more like a ticket to ride. Or an enjoyable travel companion who brought an extra super-comfy pillow and blanket just for you. Or a friendly little sprite who lives inside your ear, delivering mind-bending dots and loops to your brain while making sure your eyes don't wander off in two different directions while he buffalos your skull. Whatever they are, they sound delicious.... read more
Skullcandy Smokin Bud Specs
General Info
Class:

Design:
Music
Frequency response:

Main driver diameter:
Body
Black, White, Red, Blue, Green, Pink, Purple

Available color options:
Alternative variants
You can add different versions of a single gadget as alternative variants.
If you are interested in using our specs commercially, check out our Headphones specs database licensing page.
Latest Skullcandy Smokin Bud User reviews

Overal rating:
Popular Skullcandy Smokin Bud Videos